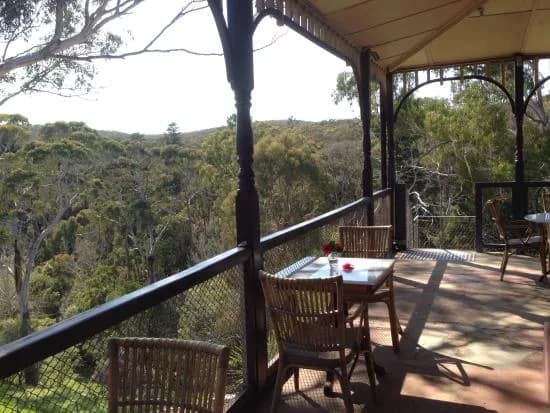 The Grande Hotel, located in the town center of Daylesford, is situated in an iconic building that adds to its charm and character. With its comfortable rooms, lively pub, and popular restaurant, The Grande Hotel offers a welcoming atmosphere and friendly service. more here
Here are some features that make The Grande Hotel a popular choice:
Comfortable Rooms: The hotel provides comfortable rooms where guests can relax and unwind after a day of exploring the town. The rooms are designed to ensure a restful stay, with amenities and furnishings that cater to guests' comfort. Whether you're staying for a night or an extended period, The Grande Hotel offers a cozy retreat.
Lively Pub: The hotel features a lively pub that adds to its vibrant atmosphere. Whether you're a guest at the hotel or a local resident, the pub provides a social gathering place where you can enjoy a drink, engage in conversation, and soak up the lively ambiance. It's a great spot to meet fellow travelers or mingle with the locals.
Popular Restaurant: The Grande Hotel is known for its popular restaurant, which offers a variety of dining options. From hearty pub classics to innovative dishes, the restaurant caters to different tastes and preferences. Guests can indulge in a delicious meal prepared with care and served in a welcoming setting.
Welcoming Atmosphere: The Grande Hotel prides itself on creating a welcoming atmosphere for its guests. The friendly and attentive staff go above and beyond to ensure that guests feel at home and enjoy their stay. Whether it's providing recommendations for local attractions or attending to guests' needs, the staff's hospitality contributes to a positive experience.
Central Location: Being located in the town center, The Grande Hotel offers easy access to Daylesford's attractions, shops, and cafes. Guests can explore the local area on foot, enjoying the convenience of having everything within reach. The central location allows for a seamless blend of relaxation, dining, and exploration.
Iconic Building: The hotel's iconic building adds to its allure and historical appeal. Staying at The Grande Hotel provides guests with the opportunity to immerse themselves in the town's heritage and architectural charm. The building's unique features and architectural elements create a sense of character and authenticity.
The Grande Hotel offers comfortable rooms, a lively pub, a popular restaurant, and a welcoming atmosphere. With its central location and iconic building, it provides guests with an opportunity to experience the vibrant spirit of Daylesford. Whether you're seeking a comfortable place to stay or looking for a lively dining and social experience, The Grande Hotel offers a memorable and enjoyable stay in the heart of the town. view more